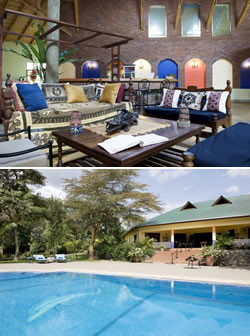 Olasiti Lodge
Arusha Town
See Our Video of Orasiti Lodge
Amid the hustle and bustle of Arusha, you leave the busy road behind to enjoy this lovely retreat - a welcome paradise with gardens, relaxing swimming pool and spacious bedrooms, all with ensuite bathrooms. This 28-room garden oasis is situated only 7kms from the central Arusha business district yet Olasiti Lodge is still within easy reach of all amenities.
The neighborhood bears witness to everyday life in Arusha, with a colorful and vibrant African church nearby. Our guests have been welcomed when joining morning services with lively prayer and music. It is a cultural event for many - all part of the Tanzanian experience.
Whether you're on your way to safari, or just returning, afternoons by the pool or relaxing in the gardens are the perfect way to unwind. Olasiti Lodge also has an internet cafe and curio shop.