Location of Olasiti Lodge
03° 23' 10" S // 36° 39' 34" E // Altitude: 1347 m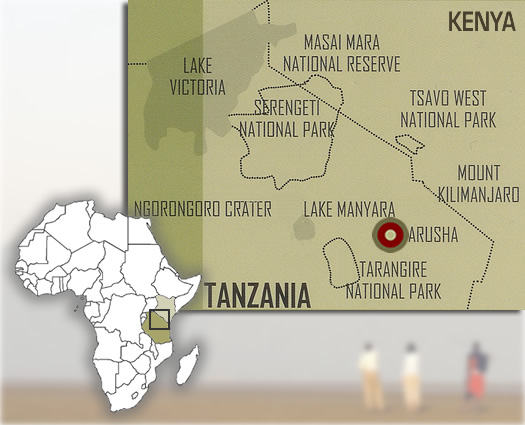 Conveniently located south of Arusha Town, this homely Lodge is the ideal base. Either on the way to the Parks or after your safari, as a stopover on the way back home.
Directions
BY AIR
Arusha has two airports. International Kilimanjaro 1 hr drive and Arusha Airport which is 30 minutes drive and conects with major National Parks in the North and with Zanzibar.

BY ROAD
The route takes approximately 2 1/4 hours to from Arusha.
Area Information
Arusha
Arusha is a lush town at an altitude of 1 380 metres above sea level. With Mount Meru as a backdrop, it's an attractive town, with a busy bustle about it. As the launch pad for all the great Tanzania safaris in the north of Tanzania.

While in Arusha, don't miss the Clock Tower donated by a Greek who lived there in 1945. The German Boma houses the National Natural History Museum containing the famous Laetoli Footprints set in volcanic ash and dating back 3 500 000 years.

The Arusha Declaration National Museum is dedicated to the landmark Tanzanian Uhuru Freedom Movement of the 60s, and affords a fascinating perspective into this crucial period of Tanzania's history.

Arusha National Park
The closest national park to Arusha town – northern Tanzania's safari capital – Arusha National Park is a multi-faceted jewel, often overlooked by safarigoers, despite offering the opportunity to explore a beguiling diversity of habitats within a few hours.

The entrance gate leads into shadowy montane forest inhabited by inquisitive blue monkeys and colourful turacos and trogons – the only place on the northern safari circuit where the acrobatic black-and-white colobus monkey is easily seen. In the midst of the forest stands the spectacular Ngurdoto Crater, whose steep, rocky cliffs enclose a wide marshy floor dotted with herds of buffalo and warthog.

Tanzania

Travel formalities
• Foreign visitors should check before arriving whether a visa is required. Visas are issued on arrival.
• Visitors must have at least one blank page in their passports.
• Tourists must have return or onward tickets.